2012
04.23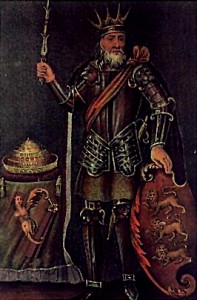 On this date in 1014, Brian Boru, the high king of Ireland, is assassinated by a group of retreating Norsemen shortly after his Irish forces defeated them. Brian, a clan prince, seized the throne of the southern Irish state of Dal Cais from its Eogharacht rulers in 963. He subjugated all of Munster, extended his power over all of southern Ireland, and in 1002 became the high king of Ireland. Unlike previous high kings of Ireland, Brian resisted the rule of Ireland's Norse invaders, and after further conquests his rule was acknowledged across most of Ireland. As his power increased, relations with the Norsemen on the Irish coast grew increasingly strained. In 1013, Sitric, king of the Dublin Norse, formed an alliance against Brian, featuring Viking warriors from Ireland, the Hebrides, the Orkneys, and Iceland, as well as soldiers of Brian's native Irish enemies.
On April 23, 1014, Good Friday, forces under Brian's son Murchad met and annihilated the Viking coalition at the Battle of Clontarf, near Dublin. After the battle, a small group of Norsemen, flying from their defeat, stumbled on Brian's tent, overcame his bodyguards, and murdered the elderly king. Victory at Clontarf broke Norse power in Ireland forever, but Ireland largely fell into anarchy after the death of Brian.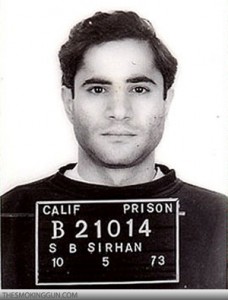 On this date in 1969, Sirhan Sirhan is sentenced to the death penalty after being convicted in the assassination of Robert F. Kennedy. In 1972, Sirhan's sentence was commuted to life in prison after California abolished the death penalty. In the early morning hours of June 5, 1968, Robert Kennedy, a U.S. senator from New York who had just won California's Democratic presidential primary, gave a victory speech in the ballroom of the Ambassador Hotel in Los Angeles. After the speech, Kennedy was making his way toward the hotel kitchen to greet supporters when he was shot three times at close range by Sirhan Sirhan with a .22 caliber revolver; a fourth bullet went through Kennedy's jacket. Five other people were shot as well, none fatally. Several of the senator's friends and aides subdued Sirhan on the scene.
Kennedy died at the hospital the next day, June 6, at age 42. The funeral for Kennedy, who served as U.S. attorney general from 1961 to 1964 and had been a senator since 1965, was held at St. Patrick's Cathedral in New York City. His body was then taken to Washington, D.C., by train, with thousands of people lining the route to pay their respects. He was buried at Arlington National Cemetery next to his brother, President John F. Kennedy, who had been assassinated by Lee Harvey Oswald on November 22, 1963.
Sirhan Bishara Sirhan, a Palestinian immigrant born in Jerusalem in 1944, moved to the United States with his family as a boy and attended high school in California. He later stated he killed Robert Kennedy because the senator had supported Israel in the Arab-Israeli war of 1967. Following a three-month trial, during which Sirhan's lawyers argued he was mentally unstable at the time of the murder, he was convicted on April 17, 1969. On April 23, he was given the death penalty. However, in 1972, the California Supreme Court abolished the death penalty and Sirhan's sentence was commuted to life in prison. His requests for parole have been denied over a dozen times, and he continues to serve his time in a California prison.