2012
04.03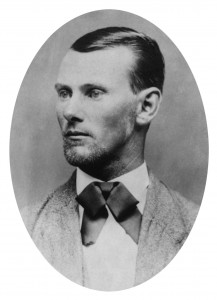 On this date in 1882, one of America's most famous criminals, Jesse James, is shot to death by fellow gang member Robert Ford, who betrayed James For 16 years, Jesse and his brother, Frank, committed robberies and murders throughout the Midwest. Detective magazines and pulp novels glamorized the James gang, turning them into mythical Robin Hoods who were driven to crime by unethical landowners and bankers. In reality, Jesse James was a ruthless killer who stole only for himself.
The teenage James brothers joined up with southern guerrilla leaders when the Civil War broke out. Both participated in massacres of settlers and troops affiliated with the North. After the war was over, the quiet farming life of the James brothers' youth no longer seemed enticing, and the two turned to crime. Jesse's first robbery occurred on February 13, 1866, in Liberty, Missouri. Over the next couple of years, the James brothers became the suspects in several bank robberies throughout western Missouri. However, locals were sympathetic to ex-southern guerrillas and vouched for the brothers. Throughout the late 1860s and early 1870s, the James gang robbed only a couple banks a year, otherwise keeping a low profile.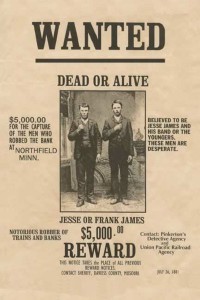 In 1873, the James gang got into the train robbery game. During one such robbery, the gang declined to take any money or valuables from southerners. The train robberies brought out the Pinkerton Detective Agency, employed to bring the James gang to justice. However, the Pinkerton operatives' botched attempt to kill James left a woman and her child injured and elicited public sympathy for Jesse and Frank James. The James gang suffered a setback in 1876 when they raided the town of Northfield, Missesota. The Younger brothers, cousins of the James brothers, were shot and wounded during the brazen midday robbery. After running off in a different direction from Jesse and Frank, the Younger brothers were captured by a large posse and later sentenced to life in prison. Jesse and Frank, the only members of the gang to escape successfully, headed to Tennessee to hide out. After spending a few quiet years farming, Jesse organized a new gang.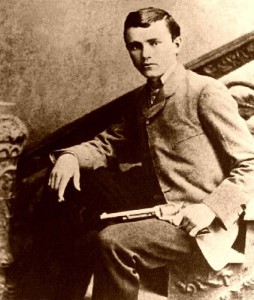 The Ford brothers were on the fringe of the new gang, but they disliked Jesse intensely and decided to kill him. On April 3, while Jesse's mother made breakfast, the new gang met to hear Jesse's plan for the next robbery. When Jesse turned his back to adjust a picture on the wall, Bob Ford shot him several times in the back.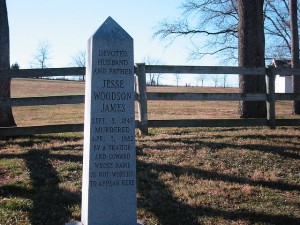 His tombstone reads, "Jesse W. James, Died April 3, 1882, Aged 34 years, 6 months, 28 days, Murdered by a traitor and a coward whose name is not worthy to appear here."