2012
04.02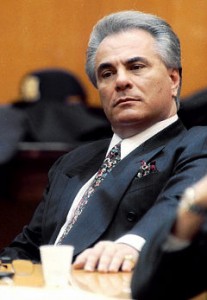 On this date in 1992, a jury in New York finds mobster John Gotti, nicknamed the Teflon Don for his ability to elude conviction, guilty on 13 counts, including murder and racketeering. In the wake of the conviction, the assistant director of the FBI's New York office, James Fox, was quoted as saying, "The don is covered in Velcro, and every charge stuck." On June 23 of that year, Gotti was sentenced to life in prison, dealing a significant blow to organized crime.
John Joseph Gotti, Jr., was born in the Bronx, New York, on October 27, 1940. He rose through the ranks of the Gambino crime family and seized power after ordering the December 1985 murder of then-boss Paul Castellano outside a Manhattan steakhouse. Behind closed doors, Gotti was a ruthless, controlling figure. Publicly, he became a tabloid celebrity, famous for his swagger and expensive suits, which earned him another nickname, the Dapper Don.
During the 1980s, Gotti's lawyer Bruce Cutler won him acquittals three times. A jury member in one of those trials was later convicted of accepting a bribe to acquit the mob boss. In December 1990, Gotti was arrested at the Ravenite Social Club, his headquarters in New York City's Little Italy neighborhood. The ensuing trial, which started in January 1992, created a media frenzy. Salvatore "Sammy the Bull" Gravano, one of Gotti's top soldiers, made a deal with the government and testified in court against his boss. Gravano admitted to committing 19 murders, 10 of them sanctioned by Gotti. In addition, prosecutors presented secret taped conversations that incriminated Gotti. After deliberating for 13 hours, the jury, which had been kept anonymous and sequestered during the trial, came back with a verdict on April 2, 1992, finding Gotti guilty on all counts. The mob boss was sent to the U.S. Penitentiary at Marion, Illinois, where he was held in virtual solitary confinement. On June 10, 2002, Gotti died of throat cancer at age 61 at a Springfield, Missouri, medical center for federal prisoners.