2012
04.02
Who was born on this date: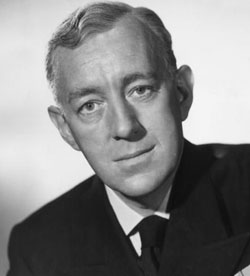 Actor Alec Guinness was born on April 2, in London. In films, Guinness was initially associated mainly with the Ealing comedies, and particularly for playing eight different characters in Kind Hearts and Coronets. In 1952, he was cast in his first romantic lead role, opposite Petula Clark in The Card. He won particular acclaim for his work with director David Lean. After appearing in Lean's Great Expectations and Oliver Twist, he was given a starring role opposite William Holden in The Bridge on the River Kwai. For his performance Guinness won the Academy Award for best actor. Despite a difficult and often hostile relationship with Lean, he continued to be cast in character roles such as Lawrence of Arabia; Doctor Zhivago; and A Passage to India. Other notable film roles of this period included The Swan (1956) with Grace Kelly, The Horse's Mouth (1958) for which he was nominated for an Academy Award; Our Man in Havana (1959); and The Fall of the Roman Empire (1964).
Guinness's role as Obi-Wan Kenobi in the original Star Wars trilogy, beginning in 1977, brought him worldwide recognition by a new generation. Guinness agreed to take the part on the condition that he would not have to do any publicity to promote the film. He was also one of the few cast members who believed that the film would be a box office hit; he negotiated a deal for 2% of the gross, which made him very wealthy in his later life. His role would also result in Golden Globe and Academy Award nominations. Despite these rewards, Guinness soon became unhappy with being identified with the part, and expressed dismay at the fan-following that the Star Wars trilogy attracted. Guinness died on August 5, 2000, from liver cancer at Midhurst in West Sussex. He had been receiving hospital treatment for glaucoma, and had recently also been diagnosed with prostate cancer. He was buried at Petersfield Cemetery in Petersfield, England.
Actor Buddy Ebsen was born on April 2, 1908 in Belleville, Illinois. A performer for seven decades, he had starring roles as Jed Clampett in the long-running television series The Beverley Hill Billies and as the title character in the 1970s detective series Barnaby Jones. Ebsen also played Fess Parker's sidekick in Walt Disney's Davy Crockett miniseries (1953–54), and was cast as the Tin Man in The Wizard of Oz (1939) until he fell ill due to an allergy to the makeup. he died on July 6, 2003 from Pneumomia in Torrance, California and his ashes were scattered at sea.