2012
04.01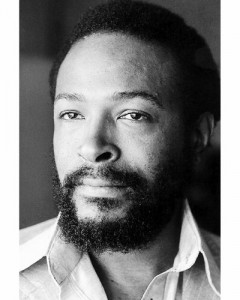 On this date in 1984, Marvin Gaye was shot and killed by his father. He was the Prince of Motown, the soulful voice behind hits as wide-ranging as "How Sweet It Is (To Be Loved By You)" and "Mercy Mercy Me (The Ecology)." Like his label-mate Stevie Wonder, Gaye both epitomized and outgrew the crowd-pleasing sound that made Motown famous. Over the course of his roughly 25-year recording career, he moved successfully from upbeat pop to "message" music to satin-sheet soul, combining elements of Smokey Robinson, Bob Dylan and Barry White into one complicated and sometimes contradictory package. But as the critic Michael Eric Dyson put it, the man who "chased away the demons of millions…with his heavenly sound and divine art" was chased by demons of his own throughout his life.
If the physical cause of Marvin Gaye's death was straightforward—"Gunshot wound to chest perforating heart, lung and liver," according to the Los Angeles County Coroner—the events that led to it were much more tangled. On the one hand, there was the longstanding conflict with his father dating back to childhood. Marvin Gay, Sr., (the "e" was added by his son for his stage name) was a preacher in the Hebrew Pentecostal Church and a proponent of a strict moral code he enforced brutally with his four children. He was also, by all accounts, a hard-drinking cross-dresser who personally embodied a rather complicated model of morality. By some reports, Marvin Sr. harbored significant envy over his son's tremendous success, and Marvin Jr. clearly harbored unresolved feelings toward his abusive father.
Those feelings spilled out for the final time in the Los Angeles home of Marvin Gay, Sr., and his wife Alberta. Their son the international recording star had moved into his parents' home in late 1983 at a low point in his struggle with depression, debt and cocaine abuse. Only one year removed from his first Grammy win and from a triumphant return to the pop charts with "Sexual Healing," Marvin Gaye was in horrible physical, psychological and financial shape, and now he found himself living in the same house as the man who must have been at the root of many of his struggles.
After an argument between father and son escalated into a physical fight on the morning of April 1, 1984, Alberta Gay was trying to calm her son in his bedroom when Marvin Sr. took a revolver given to him by Marvin Jr. and shot him three times in his chest. Marvin Gaye's brother, Frankie, who lived next door, and who held the legendary singer during his final minutes, later wrote in his memoir that Marvin Gaye's final, disturbing statement was, "I got what I wanted….I couldn't do it myself, so I made him do it."