2012
03.08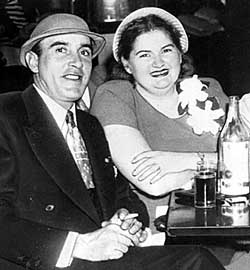 Between 1947 and 1949 they are believed to have killed as many as twenty women. The 1970 movie The Honeymoon Killers, the 1996 movie Deep Crimson, the 2006 movie Lonely Hearts, and an episode of the TV series Cold Case were all based on this case.
Raymond Fernandez was born on December 17, 1914 in Hawaii. Shortly thereafter, they moved to Connecticut. As an adult, he moved to Spain, married, and had four children, all of whom he abandoned later on in life. After serving in Spain's Merchant Marine and then the British Intelligence service during World War II, Fernandez decided to seek work. Shortly after boarding a ship bound for America, a steel hatch fell on top of him, fracturing his skull, and injuring his frontal lobe. The damage left by this injury may well have affected his social and sexual behavior. Upon his release from a hospital, Fernandez stole some clothing, and was imprisoned for a year, during which time his cellmate taught him voodoo and black magic. He later claimed black magic gave him irresistible power and charm over women. After having served his sentence, Fernandez moved to New York and began answering personal ads by lonely women. He would wine and dine them, then steal their money and possessions. Most were too embarrassed to report the crimes. In one case, he traveled with a woman to Spain, where he visited his wife and introduced the two women. His female traveling companion then died under suspicious circumstances, and he took possession of her property with a forged will. In 1947, he answered a personal ad placed by Martha Beck.
Martha Beck was born Martha Jule Seabrook on May 6, 1920 in Milton, Florida. At her trial, she claimed to have been sexually assaulted by her brother. When she told her mother about what happened, her mother beat her, claiming she was responsible. After she finished school, she studied nursing, but had trouble finding a job due to her weight. She initially became an undertaker's assistant and prepared female bodies for burial. She quit her job and moved to California where she worked in an Army hospital as a nurse. She engaged in sexually promiscuous behavior, and eventually became pregnant. She tried to convince the father to marry her but he refused. Single and pregnant, she returned to Florida. Unemployed and a single mother, Beck escaped into a fantasy world, buying romance magazines and novels. In 1946, she found employment at the Pensacola Hospital for Children. She placed a lonely-hearts ad in 1947, which Raymond Fernandez then answered.
Fernandez visited Beck and stayed for a short time, and she told everyone that they were to be married. He returned to New York while she made preparations in Florida, where she lived. Abruptly, she was fired from her job, likely because of rumors about her and Fernandez. She then packed up and arrived on his doorstep in New York. Fernandez enjoyed the way she catered to his every whim, and he confessed his criminal enterprises. Beck quickly became a willing participant, and sent her children to the Salvation Army. She posed as Fernandez' sister, giving him an air of respectability. Their victims often stayed with them, or with her. She was extremely jealous and would go to great lengths to make sure he and his "intended" never consummated their relationship. When he did have sex with a woman, both were subjected to Beck's violent temper.
In 1949, the pair committed the three murders for which they would later be convicted. Janet Fay, 66, became engaged to Fernandez and went to stay at his Long Island apartment. When Beck saw her and Fernandez in bed together, she smashed Fay's head in with a hammer in a murderous rage, and then Fernandez strangled her. Fay's family became suspicious, and the couple moved on to a new victim.
They traveled to Wyoming Township, Michigan, a suburb of Grand Rapids, to meet Delphine Downing, a young widow with a two-year-old daughter. While they stayed with Downing, she became agitated, and Fernandez gave her sleeping pills. Enraged by Downing's crying daughter, Beck strangled her, though not killing her. Fernandez thought Downing would become suspicious if she saw her bruised daughter, so he shot the unconscious woman. The couple then stayed for several days in Downing's house. Again enraged by the daughter's crying, Beck drowned her in a basin of water. They buried the bodies in the basement, but suspicious neighbors reported the Downing's disappearances, and police arrived at the door on February 28, 1949.
Fernandez quickly confessed, with the understanding that they would not be extradited to New York; Michigan had no death penalty, but New York did. They were, however, extradited. They vehemently denied seventeen murders that were attributed to them, and Fernandez tried to retract his confession, saying he only did it to protect Beck. Their trial was sensationalized, with lurid tales of sexual perversity. Beck was so upset about the media's comments about her appearance that she wrote protesting letters to the editors. Fernandez and Beck were convicted of the three murders and sentenced to death. On March 8, 1951, both were executed by electric chair at Sing Sing Prison. Despite their tumultuous arguments and relationship problems, they often professed their love to each other, as demonstrated by their official last words:
"I wanna shout it out; I love Martha! What do the public know about love?" – Raymond Fernandez.
"My story is a love story. But only those tortured by love can know what I mean […] Imprisonment in the Death House has only strengthened my feeling for Raymond…." – Martha Beck.