2012
03.05
Who was born on this date: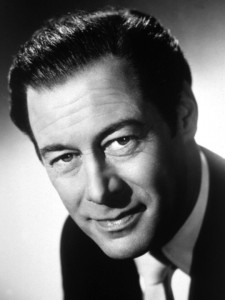 Actor Rex Harrison was born Reginald Carey on March 5, 1908 in Huyton, Lancashire, England. He first appeared on stage in 1924 in Liverpool but his acting career was interrupted because of World War II. During which he served in the Royal Air Force, reaching the rank of Flight Lieutenant. He acted in the West End of London when he was young, appearing in the Terence Rattigan play French Without Tears, which proved to be his breakthrough role.
Harrison's film debut was in The Great Game (1930), and other notable early films include The Citadel (1938), Night Train to Munich (1940), Major Barbara (1941), Blithe Spirit (1945), Anna and the King of Siam (1946), The Ghost and Mrs. Muir (1947), and The Foxes of Harrow (1947). He was best known for his portrayal of Professor Henry Higgins with Audrey Hepburn in the 1964 film version of My Fair Lady, based on the Broadway production of the same name, for which Harrison won a Best Actor Oscar. He also starred in 1967's Doctor Doolittle. Harrison was not by general terms a singer; thus, the music was generally written to allow for long periods of recitative, generally identified as "speaking to the music."
Although excelling in comedy he attracted favorable reviews in dramatic roles such as his portrayal of Julius Caesar in Cleopatra (1963) and as Pope Julius II in The Agony and the Ecstasy (1965), starring opposite Charlton Heston as Michelangelo. He alternated appearances between the stage and film throughout his career. He appeared in numerous plays in both London and New York. Highlights include Bell, Book and Candle (1950), Venus Observed, The Cocktail Party, The Kingfisher, and The Love of Four Colonels, which he also directed. He won his first Tony Award for his appearance as Henry VIII in Anne of the Thousand Days and international superstardom (and a second Tony Award) for his Henry Higgins in the musical My Fair Lady, in which he appeared opposite a young Julie Andrews. Later appearances included Pirandello's Henry IV, a 1984 appearance at the Haymarket Theatre with Claudette Colbert in Frederick Lonsdale's Aren't We All?, and one on Broadway at the Brooks Atkinson Theatre presented by Douglas Urbanski, at the Haymarket in J. M. Barrie's The Admirable Crichton with Edward Fox. He returned as Henry Higgins in a highly paid revival of My Fair Lady directed by Patrick Garland in 1981, cementing his association with the plays of George Bernard Shaw which included a Tony nominated performance as Shotover in Heartbreak House, Julius Caesar in Caesar and Cleopatra, and General Burgoyne in a Los Angeles production of The Devil's Disciple. He also appeared as an aging homosexual man opposite Richard Burton as his lover in Staircase (1969).
In his personal life Harrison was a mess enduring numerous scandals and six marriages. In 1942, he divorced his first wife, Colette Thomas, and then married actress Lilli Palmer. They appeared together in numerous plays and films, including The Four Poster (1952). In 1947, while still married to Palmer, Harrison began an affair with actress Carole Landis. In 1948, Landis committed suicide after spending the night with Harrison. His involvement in her death and the subsequent scandal briefly damaged his career. He and Palmer divorced in 1957 and that same year, Harrison married for a 3rd time to actress Kay Kendall. Two years later tragedy struck again when Kendall died of leukemia. In 1962, he married for a 4th time to Welsh-born Rachel Roberts. This marriage lasted nine years and also ended in divorce. In 1980, Roberts committed suicide. Harrison married for a 5th time in 1971 to Elizabeth Rees-Williams and sadly this union also ended in divorce after four years. His 6th and final marriage was to Mercia Tinker.
Having retired from films in the late 1970's, Harrison continued to act on Broadway until the end of his life, despite suffering from glaucoma, painful teeth, and a failing memory. In 1989 he appeared on Broadway in The Circle by W. Somerset Maugham, opposite Glynis Johns and Stewart Granger. On July 25, 1989 Harrison was knighted by Queen Elizabeth II at Buckingham Palace. An orchestra played the music of songs from My Fair Lady. He died of pancreatic cancer at his home in Manhattan on June 2, 1990 at the age of 82. His ashes were scattered in Portofino, Italy and at the grave of his second wife Lilli Palmer at Forest Lawn, Glendale.
Who died on this date: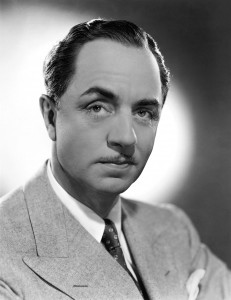 On March 5, 1984, actor William Powell died. He was born on July 29, 1892 in Pittsburgh, Pennsylvania. He began his Hollywood career in 1922 playing a small role in a production of Sherlock Holmes that starred John Barrymore. His most memorable role in silent movies was as a bitter film director opposite Emil Jannings' Academy Award-winning performance as a fallen general in The Last Command (1928), which led to Powell's first starring role as amateur detective Philo Vance in The Canary Murder Case (1929).
Powell's most famous role was that of Nick Charles in six Thin Man films, beginning with The Thin Man in 1934. The role provided a perfect opportunity for Powell to showcase his sophisticated charm and his witty sense of humor, and he received his first Academy Award nomination for The Thin Man. Actress Myrna Loy played his wife, Nora, in each of the Thin Man films. Their partnership was one of Hollywood's most prolific on-screen pairings, with the couple appearing in 14 films together. He and Loy also starred in The Great Ziegfeld the Oscar winning film of 1936 and that same year, he also received his second Academy Award nomination, for the comedy My Man Godfrey.
In 1935, he starred with Jean Harlow in Reckless. Soon it developed into a serious romance, though she died in 1937 before they could marry. His distress over her death, as well as his own battle with colon cancer around the same time, caused him to accept fewer acting roles. His career slowed considerably in the 1940s, although in 1947 he received his third Academy Award nomination for his work in Life with Father. His last film was Mister Roberts in 1955 and despite numerous offers to return to the screen; Powell refused all and stayed retired.
In his personal life Powell was married three times, first to Eileen Wilson, which ended in a divorce in 1930. The following year he married actress Carole Lombard and they divorced in 1933. As previously discussed, Powell had a close relationship with actress Jean Harlow beginning in 1935, but they never married and the relationship was cut short by her untimely death in 1937. Powell paid for her final resting place, a $25,000 private room in the Sanctuary of Benediction of the Great Mausoleum, Forest Lawn Glendale. On March 5, 1984, Powell died of heart failure in Palm Springs, California and is buried at the Desert Memorial Park, in Cathedral City, California.