2012
02.27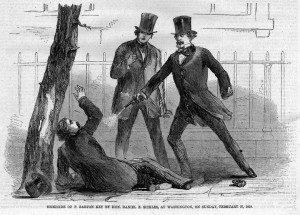 Philip Barton Key II was born on April 5, 1818 in Georgetown, Washington, DC and was the son of Francis Scott Key and the great-nephew of Philip Barton Key. He was also a nephew of Chief Justice Roger Taney. He married Ellen Swan, the daughter of a Baltimore attorney, on November 18, 1845. Allegedly the handsomest man in Washington, Key was known to be flirtatious with many women.
In 1859, Congressman Daniel Sickles shot and killed Phillip Barton Key, for having conducted a public affair with his wife Teresa Sickles. Sometime in the spring of 1858, Teresa Sickles began an affair with Key. Sickles had accused his much-younger wife several times during their five-year marriage of adultery, but she had repeatedly denied it. But then Sickles received an anonymous note on February 26, 1859, informing him of his wife's liaison with Key. He confronted his wife, who confessed to the affair. Sickles then made his wife write out her confession on paper. Sickles saw Key sitting on a bench outside the Sickles home on February 27, 1859, signaling to Teresa, and confronted him. Sickles rushed outside into Lafayette Square, cried "Key, you scoundrel, you have dishonored my home; you must die", and with a pistol repeatedly shot the unarmed Key. Key was taken into a nearby house, where he died some time later. At the time of his death, Key was the US States Attorney for the District of Columbia. He is buried in Oak Hill Cemetery in Washington.
Sickles was acquitted on the basis of temporary insanity, a crime of passion, in one of the most controversial trials of the 19th century. Sickles' attorney, Edwin Stanton, later became the Secretary of War. Sickles became one of the most prominent political generals of the Civil War. At the Battle of Gettysburg, he insubordinately moved his Corp to a position in which it was virtually destroyed, an action that continues to generate controversy. His combat career ended at Gettysburg when his leg was struck by cannon fire. After the war, Sickles commanded military districts during Reconstruction, served as US Minister to Spain, and eventually returned to the US Congress. He died on May 3, 1914 and is buried at Arlington National Cemetery. The remainder of their marriage Teresa and Daniel Sickles were estranged, she died in 1867 from tuberculosis ay age thirty-one.