2012
02.24
Who was born on this date: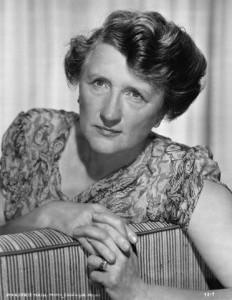 Actress Marjorie Main was born on February 24, 1890 in Acton, Indiana. She was a character actress for MGM, best known for her role as Ma Kettle in the Ma and Pa Kettle films. Her first film was A House Divided in 1931. She was typecast in abrasive and domineering roles because of her distinct voice. She made six films with Wallace Beery in the 1940s and retired from movies in 1957. She died from lung cancer on April 10, 1975 at St. Vincent's Hospital in Los Angeles and is buried at Forest Lawn Hollywood Hills.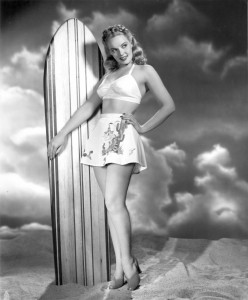 Actress Angela Green was born on February 24, 1921 in Dublin, Ireland. She is best known for playing leads in B pictures and despite her looks and talent, Greene was too independent-minded for a starring career in Hollywood. She nevertheless amassed a respectable resume, including the films Hollywood Canteen (1944) and Mildred Pierce (1945), and also appeared in dozens of TV shows. During World War II, she became a popular World War II pin-up girl and her bikini-clad image graced the nose of the US bomber Skipper 2, which flew 25 missions over North Africa and Europe. She dated naval lieutenant John F. Kennedy before marrying businessman Stuart Martin in 1946. She died from a stroke on February 9, 1978 and is buried at the San Fernando Mission Cemetery in Mission Hills, California.
Who died on this date: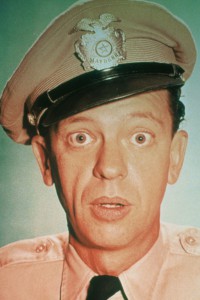 On February 24, 2006, actor Don Knotts died. He was born on July 21, 1924 in Morgantown, West Virginia. He is best known for his portrayal of Barney Fife on the 1960s television sitcom The Andy Griffith Show, a role which earned him five Emmy Awards. He also played landlord Ralph Furley on the 1970s television sitcom, Three's Company. Knotts began his career performing as a ventriloquist act and got his first major break on television in the soap opera, Search for Tomorrow, from 1953 to 1955. He came to fame in 1956 on Steve Allen's variety show, as part of Allen's repertory company. In 1958, Knotts appeared in the film, No Time for Sergeants, alongside Andy Griffith. In 1960, when Griffith was offered the opportunity to headline in his own TV show, Knotts took the role of Barney Fife, the deputy of Sheriff Andy Taylor (portrayed by Griffith). Knotts went on to star in a series of film comedies which drew on his high-strung persona from the TV series: The Incredible Mr. Limpet (1964), The Ghost and Mr. Chicken (1966), and The Reluctant Astronaut (1967). In 1979, Knotts returned to series television in his second most identifiable role, the wacky, but lovable landlord Ralph Furley on Three's Company. Knotts died on February 24, 2006 from pneumonia related to lung cancer and is buried at Westwood Memorial park in Los Angeles.
On February 24, 1994, actress/ singer/ TV hostess Dinah Shore died. She was born Frances Rose Shore on February 29, 1916 in Winchester, Tennessee. She reached the height of her popularity as a recording artist during the Big Band era of the 1940s and 1950s, but achieved even greater success a decade later, in television, mainly as hostess of a series of variety programs for Chevrolet. In her early career, while in New York, Dinah Shore was briefly involved with drummer Gene Krupa. After Dinah relocated to Hollywood she became involved with Jimmy Stewart. Shore was married to actor George Montgomery from 1943 to 1962. It is also alleged that Shore and Frank Sinatra had a long-standing affair in the 1950s. After her divorce from Montgomery, she briefly married Maurice Smith. Romances of the later 1960s involved comedian Dick Martin, Eddie Fisher and Rod Taylor. In the early 1970s, Shore had a long and happy public romance with actor Burt Reynolds, who was 20 years, her junior. The relationship gave Shore an updated, sexy image, and took some of the pressure off Reynolds in maintaining his image as a ladies' man. The couple was featured in the tabloids and after the relationship cooled, the tabloids paired Shore with other younger men. Dinah Shore died February 24, 1994, in Beverly Hills from ovarian cancer. She was cremated and her ashes were divided and she has two burial sites. Half were interred at Hillside Memorial Park in Culver City, and the other half interred at Forest Lawn Cathedral City.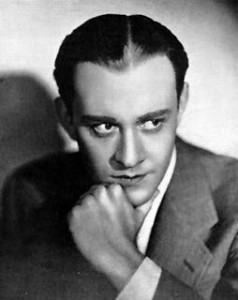 On February 24, 1970, actor Conrad Nagel died. He was born on March 16, 1897 in Keokuk, Iowa. He was an actor of the silent film era and founding member of the Academy of Motion Picture Arts and Sciences. He is buried at the Lutheran Cemetery in Warsaw, Illinois (which is in dispute).