2012
02.23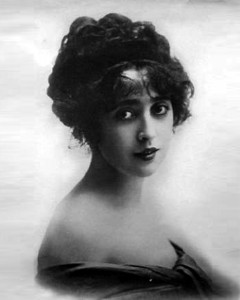 On February 23, 1930, actress Mabel Normand died. She was born on November 9, 1892 in New Brighton, Staten Island, New York. She was a silent film actress and popular star of Mack Sennett's Keystone Studios. Throughout the 1920s her name was linked with scandal including the 1922 murder of director William Desmond Taylor, after which, her film career declined, possibly due to the scandal and a recurrence of tuberculosis in 1923. Director William Desmond Taylor shared her interest in books and the two formed a close relationship. Taylor was deeply in love with Normand, who had originally approached him for help in curing her cocaine dependency. Based upon Normand's subsequent statements to investigators, her repeated relapses were devastating for Taylor. According sources Taylor met with Federal prosecutors shortly before his death and offered to assist them in filing charges against Normand's cocaine suppliers. It is believed that Normand's suppliers learned of this meeting and hired a contract killer to murder the director. According to these same sources, Normand suspected the reasons for her lover's murder, but did not know the identity of the triggerman.
On the night of Taylor's murder, February 1, 1922, Normand left Taylor's bungalow at 7:45 p.m. in a happy mood, carrying a book he had given her as a loan. They blew kisses to each other as her limousine drove away. Normand was the last person known to have seen Taylor alive. The LAPD subjected Normand to a grueling interrogation, but ruled her out as a suspect. No one was ever arrested in the murder and today it remains open and unsolved.
By this time, Normand's career had already slowed and her reputation was tarnished by revelations of her addiction, which was seen as a moral failing. In 1926 she married actor Lew Cody, however, her film career never recovered and health issues developed. After an extended stay in a sanitarium she died from tuberculosis on February 23, 1930 and was buried at Calvary Cemetery in Los Angeles. Taylor is buried at Hollywood Forever Cemetery in Hollywood, California.