2012
02.18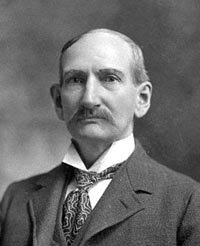 On February 18, 1915, outlaw, Frank James died. He was born Alexander Frank James on January 10, 1843 in Kearney, Missouri. He was the older brother of fellow outlaw Jesse James. In 1861, when James was eighteen years old, the Civil War began. Missouri remained in the Union although a minority favored secession (nearly three times more Missourians fought for the Union). The secessionists including Governor Jackson attempted to push the Union army out of the state but were eventually defeated. The James family was from the heavily Confederate western portion of the state. On September 13, 1861, the Missouri State Guard, including private Frank James, besieged Lexington, Missouri. James fell ill and was left behind when the Confederate forces later retreated. He surrendered to the Union troops, was paroled, and was allowed to return home. On his arrival, however, he was arrested by the local pro-Union militia and was forced to sign an oath of allegiance to the Union.
After the withdrawal of regular Confederate troops in the fall of 1864, a bitter guerrilla conflict soon began between bands of pro-Confederate irregulars and the Union home-guards. By early 1863, Frank, ignoring his parole and oath of allegiance, had joined the guerrilla band of Fernando Scott, a former saddler. He soon switched to the more active command led by William Clarke Quantrill.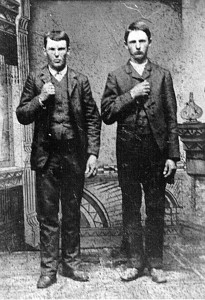 During his years as a bandit, James was involved in at least four murders between 1868 and 1876, resulting in the deaths of bank employees or citizens. The most famous incident was the disastrous Northfield, Minnestoa raid on September 7, 1876, that ended with the death or capture of most of the gang. Five months after the killing of his brother Jesse in 1882, Frank James boarded a train to Jefferson City, Missouri, where he had an appointment with the governor in the state capitol. Placing his holster in Governor Crittenden's 's hands, he explained,
"I have been hunted for twenty-one years, have literally lived in the saddle, have never known a day of perfect peace. It was one long, anxious, inexorable, eternal vigil." He then ended his statement by saying, "Governor, I haven't let another man touch my gun since 1861."
Accounts say that James surrendered with the understanding that he would not be extradited to Northfield, Minnesota. He was tried for only two of the robberies/murders, one in Gallatin, Missouri for the July 15, 1881 robbery of the Rock Island Line train at Winston, Missouri, in which the train engineer and a passenger were killed, and the other in Huntsville, Alabama for the March 11, 1881 robbery of a US Army Corps of Engineers payroll at Muscle Shoals, Alabama.. Among others, former Confederate General Joseph Shelby testified on James' behalf in the Missouri trial. He was acquitted in both Missouri and Alabama. Missouri accepted legal jurisdiction over him for other charges, but they never came to trial. He was never extradited to Minnesota for his connection with the Northfield Raid.
In the last thirty years of his life, James worked a variety of jobs, including as a shoe salesman and then as a burlesque theater ticket taker in St. Louis. One of the theater's spins to attract patrons was their use of the phrase "Come get your ticket punched by the legendary Frank James." In his final years, James returned to the James Farm, giving tours for the sum of 25 cents. He died there on February 18, 1915, aged 72 years and is buried at Hill Park Cemetery in Independence, Missouri.