2012
02.09
Who was born on this date: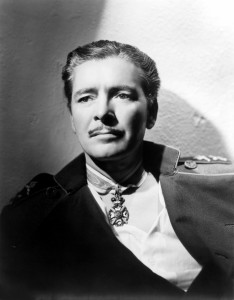 Actor Ronald Colman was born on February 9, 1891 in Richmond, Surrey, England. A veteran of the First World War, Colman gravitated to the English theater and vaudeville circuit. Feeling that America held more opportunities for an actor, he arrived in New York City in 1920. Virtually penniless, and after two years of struggles, Colman got his big break as a supporting actor in the Broadway hit, La Tendresse. Motion picture director, Henry King saw Colman and cast him alongside Lillian Gish in The White Sister (1923). Colman was an immediate hit in film, becoming one of Hollywood's greatest romantic leading men. In a film and television career that spanned thirty four years (1923-1957), Colman appeared in over forty feature motion pictures. His greatest film credits include; The Dark Angel (1925), Kiki (1926), The Night of Love (1927), The Rescue (1929), Arrowsmith (1931), A Tale of Two Cities (1935), Lost Horizon (1937), The Prisoner of Zenda (1937), and Kismet (1944). Due to his smooth and cultivated voice he was able to successfully cross the barrier from silent film to talking pictures and became one of the greatest actors of the golden age.
In 1930, he was nominated for two best acting Oscars for Condemned (1929) and Bulldog Drummond (1929). He was nominated again in 1943 for the best acting honors for his portrayal of Smithy in Random Harvest (1942). In his third attempt at Oscar gold, Colman finally took home the coveted statuette for A Double Life (1947). After this award winning performance in 1947, Colman made only one more full length film, 1950's Champagne for Caesar. He instead focused on The Halls of Ivy, a radio show and later a television program of the same name.
Colman had a dislike for the Hollywood lifestyle and near the end of his life retired to his ranch in San Ysidro, California. He was married for twenty years to actress Benita Hume. On May 19, 1958, the veteran actor died at St. Francis Hospital in Santa Barbara, California from pneumonia. Fibrosis of the lungs and pneumonia plagued the actor most of his adult life. While serving in the British armed forces during World War I, he contacted the illness and never fully recovered. His funeral service was held at the All Saints Episcopal Church in Montecito, California. More than two hundreds mourners were in attendance for the short service (only fourteen minutes). Among the Hollywood dignitaries present were long time friend William Powell, Jack Benny, Vincent Price, Joseph Cotton, and George Sanders. Ironically, less than nine months after Colman's death, Sanders would marry his widow Benita Hume. Colman is buried at the Santa Barbara Cemetery.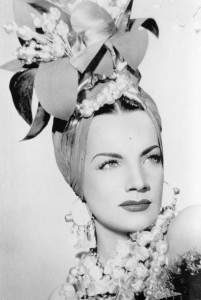 Actress Carmen Miranda was born on February 9, 1909 in Marco de Canavese, Portugal. She was noted for her signature fruit hat outfit she wore in the 1943 movie The Gang's All Here. Though hailed as a talented performer, her movie roles in the United States soon became cartoonish and she grew to resent them. Miranda made a total of fourteen Hollywood films between 1940 and 1953 and was dubbed "The Brazilian Bombshell." Her image was one of a generic Latina that blurred the distinctions between Brazil, Portugal, Argentina, and Mexico. It was carefully stylized and outlandishly flamboyant. During a visit to Brazil in 1940, Miranda was heavily criticized for giving in to American commercialism and projecting a false image of Brazil. After returning to the United States, Miranda made her final film appearance in the 1953 film Scared Stiff with Dean Martin and Jerry Lewis. On August 4, 1955, Miranda suffered a heart attack during a segment of the live NBC TV program, The Jimmy Durante Show. After completing a dance number, she fell to her knees, but quickly pulled herself together and finished the show. She died later that night after suffering a second heart attack at her home in Beverly Hills. In accordance with her wishes, Miranda's body was flown back to Rio de Janerio where the Brazilian government declared a period of national mourning and more than half a million Brazilians escorted the funeral cortège to her final resting place at the Cemiterio Sao Joao Batista.
Who died on this date: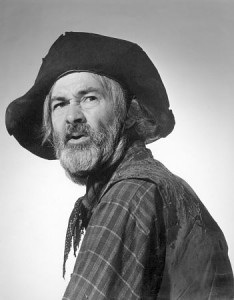 On February 9, 1969, actor Gabby Hayes died. He was born on May 7, 1885 in Wellsville, New York. He was best known for his numerous appearances in Western movies as the colorful sidekick. In his early career, Hayes was cast in a variety of roles, including villains, and occasionally played two roles in a single film. He found a niche in the growing genre of western films, many of which were series with recurring characters. Hayes played the part of Windy Halliday, the sidekick to Hoplong Cassidy from 1935 to 1939. He was cast as a sidekick to western icons Randolph Scott (6 times) and John Wayne (15 times, some as straight or villainous characters). The western film genre declined in the late 1940s and Hayes made his last film appearance in The Cariboo Trail (1950). Hayes died on February 9, 1969 from a heart ailment and is buried at Forest Lawn Hollywood Hills.
On February 9, 2003, actress/ skater Vera Ralston died. She was born on July 12, 1919 in Prague, Czechoslovakia. She competed at the 1936 Winter Olympics, where she placed 17th. During the games, she personally met and insulted Adolf Hitler. Hitler asked her if she would like to "skate for the swastika." As she later recalled, "I looked him right in the eye, and said that I'd rather skate on the swastika. She moved to Hollywood in 1943 and signed a contract with Republic Pictures. Here notable film credits include Dakota (1945), The Fighting Kentuckian (1949), and A Perilous Journey (1953). She retired from films in 1958. Ralston died on February 9, 2003 in Santa Barbara, California after a long struggle with cancer and is buried at the Santa Barbara Cemetery.
.