2012
02.04
Who was born on this date: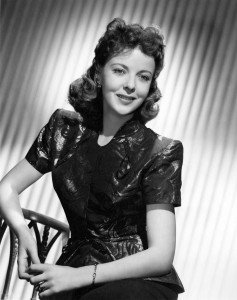 Actress Ida Lupino was was born on February 4, 1918 in Camberwell, England into a family of performers, her father, Stanley Lupino was a music-hall comedian, and her mother, Connie Emerald was an actress. It was after her appearance in The Light That Failed (1939) that Lupino began to be taken seriously as a dramatic actress. As a result, her parts improved during the 1940s. She often described herself as "the poor man's Bette Davis." During this period, Lupino was known for her hard-boiled roles in such films as They Drive by Night (1940) and High Sierra (1941), both opposite Humphrey Bogart. Other notable films credits include Road House and On Dangerous Ground.
In the mid-1940s, Lupino and her husband Collier Young formed an independent company, The Filmakers [sic], and she became a producer, director and screenwriter of low-budget, issue-oriented films. Her first directing job came unexpectedly in 1949 when Elmer Clifton suffered a mild heart attack and could not finish Not Wanted, Lupino stepped in to finish the film, becoming Hollywood's only female film director of the time. Not only did Lupino take control of production, direction and screenplay, but each of her movies addressed the brutal repercussions of sexuality and dependence. In 1953, she became the first woman to direct in Film Noir with The Hitch-Hiker. She continued acting throughout the 1950s, 1960s and 1970s and her directing efforts during these years were almost exclusively television productions. Lupino died on August 3, 1995 from a stroke while undergoing treatment for colon cancer in Los Angeles. She is buried at Forest Lawn Memorial Park, Glendale.
Who died on this date: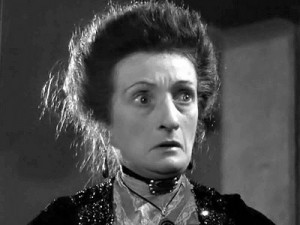 On February 4, 1959, actress Una O'Connor died. She was born on October 23, 1880 in Belfast, Ireland. For many years, she worked in Ireland and England as a stage actress, Despite her lengthy apprenticeship on stage, she did not attracted much attention from Hollywood until she was chosen by Noel Coward to appear in Cavalcade (1933). She is best remembered for her performances in The Invisible Man (1933) and Bride of Frankenstein (1935). She also appeared in The Informer (1935), The Adventures of Robin Hood (1938), My Favorite Spy (1942), The Canterville Ghots (1944), The Bells of St. Mary's (1945), Of Human Bondage (1946) and Witness for the Prosecution (1957). O'Connor died on February 4, 1959 from a heart attack in New York City and is buried at Calvary Cemetery in Woodside, New York.
.