2012
02.03
The Woman in Black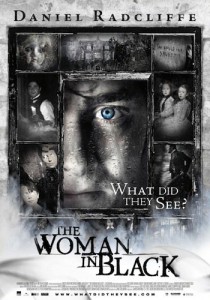 To say that The Woman In Black is a throwback to an old style of thriller doesn't quite do it justice. From the first moment we see the renewal of the Hammer moniker show up on screen we know that this picture at the least stems from the same tradition as the films that made the likes of Christopher Lee and Peter Cushing international stars.
The Woman In Black is the story of a lawyer who must travel to a damp coastal town in order to settle the affairs of an recently deceased client. Upon arrival in the town, he quickly discovers that things are a bit kooky, with, among other things, a run of child deaths plaguing the community. Traveling to the house of his client, while riding across a causeway that floods every change of tides literally trapping the house on an Island of its own, he encounters a strange vision of a Woman in Black.
So, yeah, it's a haunted house/ghost movie. You've no doubt seen hundreds of them, yet this one does manage to elevate the source by being extremely stylish. There's some excellent creepy imagery, in particular, the Victorian era windup toys that are shot particular well. A scene where the candle light makes one toys eyes come alive as if their pupils are moving is particularly effective.
While there's a capable supporting cast, this really is Daniel Radcliffe's movie. A great deal of the film consists of Daniel traipsing through spooky rooms by candlelight, and he certainly seems up to the task of carrying the film on his own. The sheer hoopla surrounding his involvement will no doubt shape audience expectations of the work, but I think as a standalone performance he's absolutely up to the task. Aside from the obvious cliché elements, there are quite a few genuinely disturbing scenes, and the film's pitiless execution of a number of children throughout the film (sometimes in graphic detail) at least show that it's unafraid to actually commit to the type of tale it's trying to tell.
The Woman In Black is a horror movie for those that never go see them, a perfectly fine, serviceable thriller. Radcliffe has chosen an interesting genre piece to make his foray into adult cinema. This film is for people that don't often go to scary movies, but it may not hold the interest of those that like more explicit or brutal kinds of movies.
Runtime – 1 hour and 34 minutes
Director – James Watkins.