2012
01.28
The Help
Winner of the 2012 Golden Globe for Best Supporting Actress (Octavia Spencer) and nominated for three Academy Awards for Best Picture, Best Actress (Viola Davis) and Best Supporting Actress (Octavia Spencer)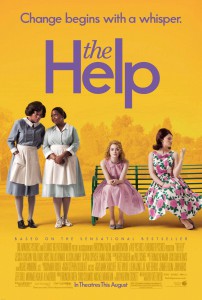 The Help, set in 1960s Jackson, Mississippi, follows Eugenia "Skeeter" Phelan (played by Emma Stone), a young college graduate who has just returned home with a degree from Ole Miss. Skeeter dreams of becoming a real author, and immediately lands a job with the town newspaper as the writer of the cleaning column. She soon decides to secretly pen a book exposing what life is like from the point of view of the African American women who cook, clean and raise white children. Aibileen (played by Viola Davis) is the maid for Skeeter's best friend Elizabeth (played by Ahna O'Reilly). She does all the cooking, she cleans, she goes to the grocery story, and most important, she takes care of Elizabeth's daughter. Although reluctant at first, Aibileen is motivated by a desire to remember her late son and is the first maid to agree to talk with Skeeter.
The next maid to agree to tell her story is Minny (played by Octavia Spencer), who works for Hilly Holbrook (played by Bryce Dallas Howard), the town's queen bee. Minny is the best cook in town but Hilly's manipulative ways finally become too much for her, and she gets some nasty revenge on her overbearing employer. After which, Minny goes to work for Celia Foote, a naive young lady who is considered white trash by Hilly and her friends. As racial tensions rise and tragedy strikes in the town, more maids find the courage to come forward. Despite the possibility of terrible backlash, the women tell "all" for the book.
The movie sets the tone right away; the bright and sunshiny presentation cloaks the story, and along with genuine humor, lightens the weightiness of the subject matter and hints at the uplifting feeling of triumph and sisterhood that will ultimately prevail. How do you take a potentially highly emotionally charged, painful and divisive civil rights issue and make it into a pleasant, poignant unifying and uplifting story? First, you add a little Southern charm, and then throw in a dash of real, honest humor. Brilliantly adapted to the silver screen from Kathryn Stockett's bestselling novel, The Help will make you laugh, and probably cry, and it will likely leave you a better person for having seen it.
Release – Dreamworks (2011)
Runtime – 137 minutes
Director – Tate Taylor
Cast – Viola Davis, Bryce Dallas Howard, Octavia Spencer, Emma Stone, Anna Camp, Ahna O'Reilly, Jessica Chastain, Allison Janney
Watch trailer – http://www.youtube.com/watch?v=J_ajv_6pUnI.