2012
01.25
Moneyball
Nominated for six Academy Awards including Best Picture, Best Lead Actor (Brad Pitt), Best Supporting Actor (Jonah Hill)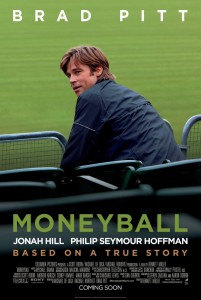 Baseball is the quintessential national game, with its own mystique and built-in traditions, but it is also a cut-throat business where change and innovation are important. Moneyball brings these elements together. In one of his better performances, Brad Pitt plays Billy Beane, a failed former Major Leaguer, and current general manager of the Oakland Athletics. His best players are constantly being poached by wealthier clubs, earning the A's the reputation of being "organ donors to the rich." During a moment of insight and despair after losing three major stars, Billy is intrigued by a quietly spoken, overweight, bespectacled adviser working for the Cleveland Indians.
The man is Peter Brand (played by Jonah Hill), an economist from Yale who's never played the game but keeps whispering obscure advice to the Cleveland pros. He believes a winning team isn't necessarily made up of individual stars but of a combination of certain talents who together add up to runs. Such people are much cheaper to buy, probably easier to handle and certainly simpler to unload. Billy's immediately hooked on the idea that he might use Brand's complex formula to transform the A's into a truly winning combination rather than relying on luck, intuition and conventional wisdom. He hires Brand and sets about selling the idea to Oakland's old-fashioned scouts and coaches.
The movie is a brilliant study of group dynamics. Billy doggedly pursues his new obsession, attracting ridicule and probable disaster. He wins in the end, though not in a triumphant manner, and not permanently, but his life is changed. Moneyball has few scenes set on the playing field, none of them sustained. It's a film about baseball that demands little knowledge of the game. The moral of the film is fairly simple: Everyone's value is subjective. Players not highly regarded by one team could become incredible assets to another. Numbers geeks not appreciated by baseball in general could prove invaluable to managers looking to change the game and the system. It's not the kind of movie everyone will find priceless but Brad Pitt and Jonah Hill give good performances. Moneyball makes statistical analysis as fascinating as a pennant race and is an inspiration for underappreciated folks everywhere.
Released through Columbia Pictures (2011)
Runtime – 2 hours 13 minutes
Director – Bennett Miller
Cast – Brad Pitt, Jonah Hill, Chris Pratt, Philip Seymour Hoffman, Robin Wright, Stephen Bishop, Tammy Blanchard
Watch trailer – http://www.youtube.com/watch?v=-4QPVo0UIzc.