2012
01.25
Who died on this date: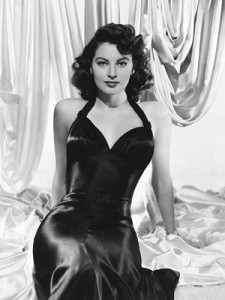 On January 25, 1990, actress Ava Gardner died. She was born on December 24, 1922 in Grabtown, North Carolina. She was one of Hollywood's most beautiful actresses and was nominated for a Best Actress Academy Award for Mogambo (1953). She appeared in several high-profile films from the late 1940s to 1970s, including The Killers (1946), The Hucksters (1947), Show Boat (1951), The Snow of Kilimanjaro (1952), The Barefoor Contessa (1954), Bhowano Junction (1956), On the Beach (1959), The Night of the Iguana (1964), Earthquake (1974), and The Cassandra Crossing (1976).
Soon after her arrival in Los Angeles, Gardner met fellow MGM contract player Mickey Rooney; they married in 1942; she was 19 years old and he was 21. Rooney and Gardner divorced in 1943. Gardner was close friends with Howard Hughes in the early to mid-1940s and the relationship lasted into the 1950s. Gardner's second marriage was brief and to jazz musician and band leader Artie Shaw from 1945 to 1946. Her third and last marriage (1951–1957) was to singer and actor Frank Sinatra. She would later say in her autobiography that he was the love of her life. Sinatra left his wife, Nancy, for Ava and their subsequent marriage made headlines. The Gardner-Sinatra marriage was tumultuous and they divorced in 1957.
After a lifetime of smoking, Gardner suffered from emphysema and an auto-immune disorder (which may have been lupus). She suffered two stokes in 1986, which left her partially paralyzed and bedridden. Although Gardner could afford her medical expenses, Sinatra wanted to pay for her to visit a specialist in the United States, and she allowed him to make the arrangements for a medically-staffed private plane. Her last words (to her house keeper), were reportedly, "I'm so tired," before she died of pneumonia on January 25, 1990 in London. After her death, Sinatra's daughter, Tina, found him slumped in his room, crying, and unable to speak. Gardner was not only the love of his life, but also was the inspiration for one of his most personal songs, "I'm a Fool to Want You." Garner was buried at the Sunset Memorial Park in Smithfield, North Carolina, next to her brothers and parents.
.