2012
01.24
Midnight in Paris
Winner of the 2012 Golden Globe for Best Screenplay
Nominated for three Academy Awards for Best Picture, Best Director and Best Orginal Screenplay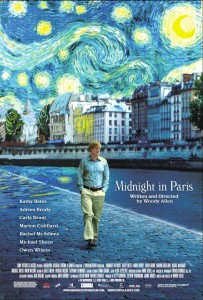 Woody Allen's, Midnight in Paris is a romantic, funny, quirky, quasi-comedy set in Paris. The film begins with a beautiful montage tribute of picture-postcard images of Paris set to a traditional jazz score. In this film, Owen Wilson takes on the role as Gil, a disillusioned Hollywood screenwriter who comes to Paris with his gorgeous fiancée Inez (Rachel McAdams) and her parents. Idolizing the bohemian Paris of the 1920s, Gil finds that the city has revived his dormant longing to be a serious novelist. One night, while strolling alone in the city, Gil sees a mysterious antique vehicle roll up and its champagne-swilling occupants urge him to jump in. He travels back in time with them to a party where he encounters F Scott Fitzgerald, Ernest Hemingway and Cole Porter and falls in love with Picasso's mistress, played by Marion Cotillard. Wilson plays the role exactly right: bemused and excited, while Cotillard has delicacy and charm. There are real laughs and enchanting cameos but when the action returns to the present, the movie begins to fizzle, and I have to say the final, crucial confrontation between Gil and Inez isn't believable. But for simple pleasure, the sort of reliably stimulating pleasure Allen use to deliver in his films – sophisticated wit … Midnight in Paris does well. In the present, the film disappoints a bit but in the past, it zips along quite nicely. So perhaps it's the fantasy/ nostalgic theme of this movie, the retreat from the present day that has restored Allen to past days of brilliance. This film may not be a return to those days for Allen, but it's a vivid reminder of them.
Release – 2011 by Sony Pictures
Run time – 1 hour 34 minutes
Written/ director – Woody Allen
Cast – Kathy Bates, Adrien Brody, Carla Bruni, Marion Cotillard, Rachel McAdams, Michael Sheen, Owen Wilson, Tom Hiddleston
Watch trailer – http://www.youtube.com/watch?v=atLg2wQQxvU.