2012
01.23
The Artist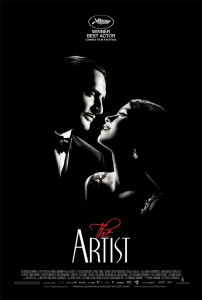 Winner of the 2012 Golden Globe for Best Picture – Musical or Comedy; Best Actor – Musical or Comedy (Jean Dujardin); Best Original Score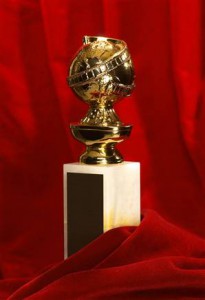 The Artist is set in the late 1920s and the story centers on George Valentin (Jean Dujardin), a famous movie star who is truly on top of the world. His movies are some of the biggest in Hollywood and he is constantly surrounded by fans who heap praise upon him. One day, by pure chance, he meets a young extra named Peppy Miller (Berenice Bejo), with whom he has an instant connection. What he doesn't know is that his career is about to be turned upside down. He ignores warnings from producer (John Goodman) that talkies are about to become the "next big thing." George refuses to change up his act, and watches his career sink lower and lower as Peppy rides the talkie wave and becomes a huge star. Much like actors in early films, star Jean Dujardin must over-emote in order to compensate for his inability to express himself verbally. But in doing so, he puts on a wonderful performance. A challenging role, to say the least, Dujardin never pushes himself so far that it becomes over done and we always know exactly how he feels. What's more, the French actor looks as though he's been ripped straight out of the era. He sells the drama, makes us laugh and is, in short, perfect as George Valentin.
The Artist presents George's life as the very kind of silent film he's trying to keep alive, allowing the audience to both re-discover the joys of silent film and fully understand George's plight. The character is so set in his ways it would actually hurt the film to hear George speak, and The Artist allows the viewer to see George as though his entire life is a silent film, which is how he would actually prefer it. This is only reinforced by the fact that the first time we see the character is on screen and through the 1927 audience's eyes. George is so attached to his movie identity that his dog co-star is even with him in real life, performing little skits at the dinner table (the dog's performance is actually one of the film's greatest highlights). While the presentation and performances are terrific, The Aritst's unoriginal story line prevents it from being a truly great film. The story of the silent film actor being pushed aside to make way for talkies is not a new concept. Despite its flaws, The Artist really is a charming film. A love letter to the age of the silent film, and it recaptures the spirit of that era. The movie isn't revolutionary but it is great entertainment.
Release Date: 2011-11-23
Distributor: The Weinstein Company
Length: 100 min
Starring: Jean Dujardin, Berenice Bejo, John Goodman, Penelope Ann Miller, and James Cromwell
Directed by: Michel Hazanavicius
Produced by: Thomas Langmann, Emmanuel Montamat
.