2011
12.13
Who was born on this date: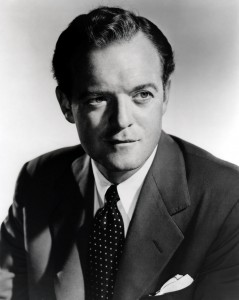 Who was born on this date:
Van Heflin, the talented character actor who often played tough guys with a sensitive and often vulnerable side was born Emmett Evan Heflin, Jr. on December 13, 1910 in Walters, Oklahoma. In his youth, Heflin worked as a merchant marine and got his start in show business by accident while on shore leave in New York City. He was discovered by Broadway director Richard Boleslawski, who cast him in the play, Mr. Moneypenny. The play closed after a short run, and he returned to the sea but the acting bug had been planted. Three years later, Heflin returned state side, and enrolled in drama school. In 1936, after a successful run in which he appeared in eight Broadway plays, Heflin made the switch to motion pictures, and was quickly signed by RKO Pictures, and appeared in his first film, A Woman Rebels (1936). In a memorable screen career that included over fifty motion pictures from 1936 to 1971, Heflin's most unforgettable movie credits include: The Outcasts of Poker Flat (1937), Santa Fe Trail (1940), The Three Musketeers (1948), Shane (1953), Battle Cry (1955), The Greatest Story Ever Told (1965), and Airport (1970). He won the best supporting actor Academy Award in 1943, for his portrayal of the hard drinking stooge, Jeff Harnett in Johnny Eager (1942). He almost always played the supporting role in films, his rugged characters seemed to possess a certain vulnerability that showed weakness which often lead to his characters into dire circumstances.
Heflin was an ardent health fanatic in his later years and often swam laps in his Los Angeles area apartment pool. On June 6, 1971, while completing his regular swimming routine, he suffered a heart attack. He was able to get to the side of the pool and hang onto a ladder but was unsuccessful in getting out of the water. Fellow tenants helped pull the stricken actor from the water but when paramedics finally arrived, he was unconsciousness and unresponsive. Heflin was transported to Citizens Emergency Hospital in Hollywood, where he lay in a coma for forty-seven days. The award winning actor died on July 23, 1971, at age sixty, never having regained consciousness. Van Heflin's remains were cremated and scattered in the Pacific Ocean.
.